Claremont Housing Authority is looking for someone to complete Housing Quality Standards Inspections.
This position is a part time position and will require paid training and certification. Must be able to work independently, have a valid driver's license and complete a criminal background check. Some experience with building maintenance is preferred.
Please contact Michelle at 603-542-6411 ext. 5 if you are interested in learning more about the position.
Claremont Housing Authority is monitoring the federal government's response to Coronavirus (COVID-19). As of March 16, 2020, Public Housing Agencies across the nation are closing their doors to the public. Generally, agencies are still operating and will communicate by phone, email, or mail. Our office has drop box outside the office so documents can still be hand-delivered. Contact the office at 603-542-6411 if you have questions or to make an appointment.
We encourage everyone to follow the recommendations of the Centers for Disease Control and Prevention (CDC) published at https://www.cdc.gov/coronavirus/2019-ncov/index.html.
Welcome to The Marion L. Phillips Apartments
Here at The Marion L. Phillips, built in 1970, specializes in providing quality housing in safe, clean, decent and secure surroundings for our tenants.  The management team at The Marion L. Phillips Apartments has more than 30 years of experience providing accommodations to adults in private and public housing.
The mission of the Claremont Housing Authority is to promote, provide and preserve safe, decent and affordable housing, free from discrimination both at its sole project, the Marion L. Phillips Apartments, and through the Housing Choice Voucher program. By fulfilling this mission, the Authority intends to maintain its HUD-designate High Performer status.
Come and see how different we truly are.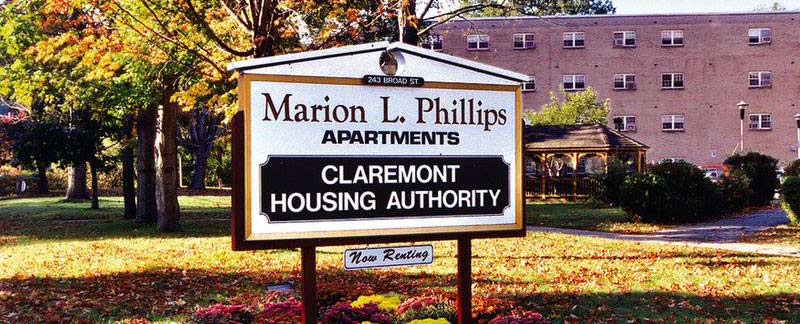 ---
Admissions & Continued Occupancy Policy
---
Admin Plan Download
---